Titan Brand

Supply your technicians with only the best components to get the job done the right way the first time. The Titan brand family of contactors, relays and capacitors are manufactured from the highest quality materials, and backed by designs that are tried and tested to perform.
Titan Max® Contactor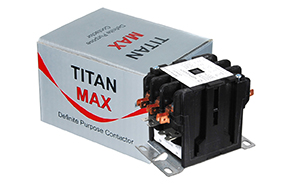 Designed specifically as a drop-in replacement for the Furnas DP contactor and many others, Titan Max® is built to offer maximum dependabiity for refrigeration applications and beyond.
Electrical endurance – contacts and coils tested to 250,000 cycles
Long mechanical life - tested to 1,000,000 cycles
Universal mounting plate allows for complete ease of replacement of other leading contactors
OEM approved and meets the ARI 780/790 standard
Offered in 1, 2 and 3-pole configurations up to 90 amp load ratings.
Fully enclosed body keeps it free of dust and bugs for maximum endurance
Removable cover for easy access to the contacts
Corresponding auxiliary switches available.
USA-made Titan HD®
Motor Run Capacitors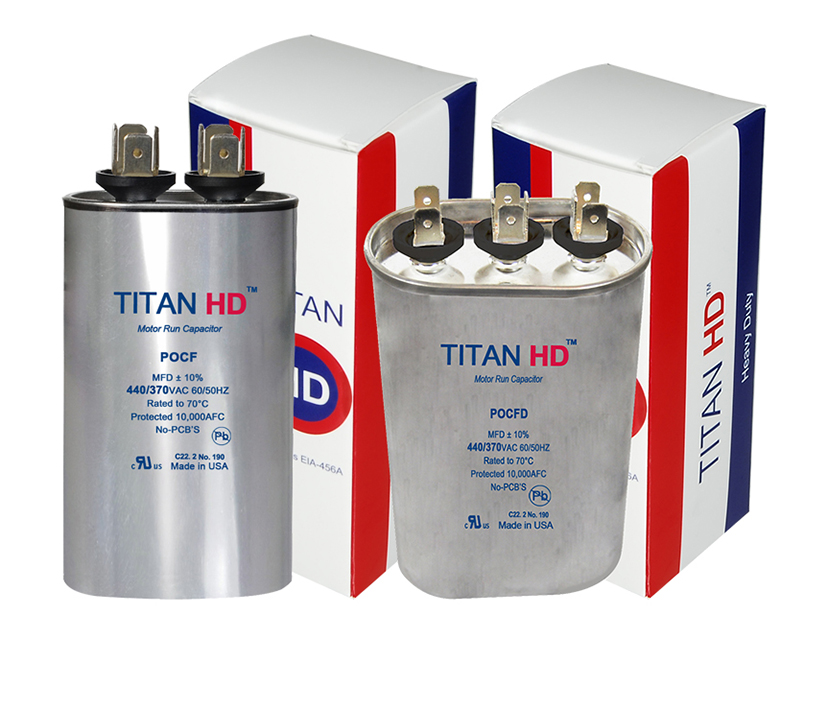 Our line of Titan HD® American made motor run capacitors were carefully developed and tested to be just as hardworking as those who made them.

Made in the USA

Full product offering – 234 ratings available!

60,000 hours operating life

Dual 440/370 design

Meets the rigorous EIA-456-A industry standard for performance and quality

Eye-catching packaging for retail environment

Contains metalized polypropylene film technology for self-restoration in the event of a breakdown

Sophisticated UL-approved pressure sensitive interrupter to remove the capacitor from circuit at end of life

Patented, environmentally-friendly oil prevents corrosion and aids in optimum heat transfer

Offered in round and oval
Titan PRO® line Motor
Run Capacitors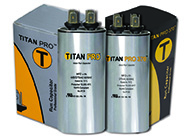 When you need a motor run capacitor that delivers the extended life your customers demand and the value you desire, you know it's time to go PRO. Titan PRO® Professional Grade Motor Run Capacitors get the job done by outperforming standard motor run capacitors of similar value by 83%!

Titan Ice® Relays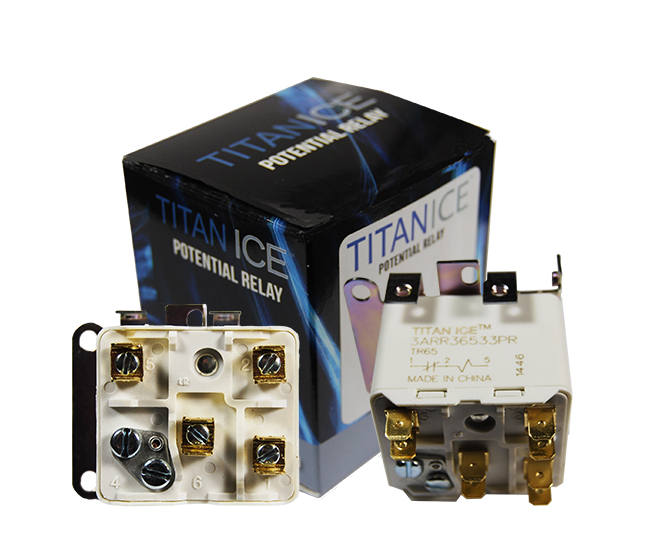 With Titan Ice®, Packard exclusively brings back one of the most trusted designs in aftermarket potential relays in a rugged and easy-to-install component.

Universal replacements for thousands of GE 3ARR3 model relays including many OEM models.

Endurance tested up to 500,000 operations

Factory calibrated voltage ratings match motor speed and torque curves for specific OEM applications.

Six (6) quick connect terminals and screws packaged with each relay

Proven performance for 40 years and going.