Training Opportunities

NATE Approved Critical Components Training
Packard has developed Packard Academy, a complete HVACR critical components training program which has received approval by North American Technician Excellence (NATE) - the leading certification program for HVACR technicians and the only test supported by the entire industry. Our instructor-led course is designed to help technicians maintain their educational hours to retain their NATE certification. Unlike other distributors, who may only offer training on one HVACR component, Packard's program is designed to train on our entire product line, demonstrating how the various critical components in the HVACR system interact with each other resulting in either proper or improper performance of the system.
Get more out of your relationship with us.
Packard Academy covers over 20 different HVACR topics and range anywhere from 2-8 hours. We deliver our instructor-led training courses to contractors at our customers' facilities. As a wholesaler, being able to offer your contractors the additional benefits of comprehensive training and continued education is a great advantage - helping to drive technicians to your branches and increase loyalty, by providing them with a value-added service.
Basic Electricity & HVACR Components
Motor Troubleshooting
Motor Construction & Applications
Selecting the proper Speed & Horsepower for your replacement motor
Motor Cross Referencing methods $ tools
Electric Motor basics
Capacitor
Motors, Capacitors, Compressors, Relays, Transformers and Contactors
Draft Inducers
Static Pressure and Airflow
General Purpose & Integral Horsepower Motors
Compressors & the A/C-R Cycle
*Course content can be structured to meet specific interests or time requirements.
Contact us for more information about Packard Academy, or to schedule a branch training session.
Tech Tips.
Packard Academy Tech Tips are geared for the contractors out in the field and the counter sales men and women in the branches. We provide helpful tips about new products or industry changes that can help when purchasing products or updating technology.

---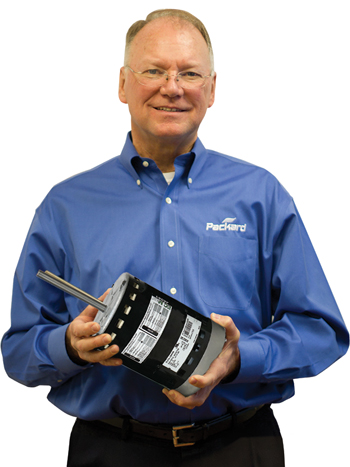 About Our Instructor
Rick Streacker, Packard's National Training Coordinator, has been working in the HVACR industry since 1979. Rick is a product training expert, developing NATE approved programs for wholesalers and contractors. He began his career as a technician in a motor shop in 1969 and has since worked with two international motor/blower manufacturers in a variety of sales engineering and sales management roles.